Data loss threatens at any time
Anyone who has ever lost important data due to technical errors, viruses, ransomware or even incorrect operation knows how important a good data backup is. One wrong click is enough and weeks of important work is lost forever.
With Easy Backup Builder, backing up data becomes an easy task. The program performs backups of files and folders reliably, automatically and largely unnoticed. With just a few clicks you can back up everything that is important to you.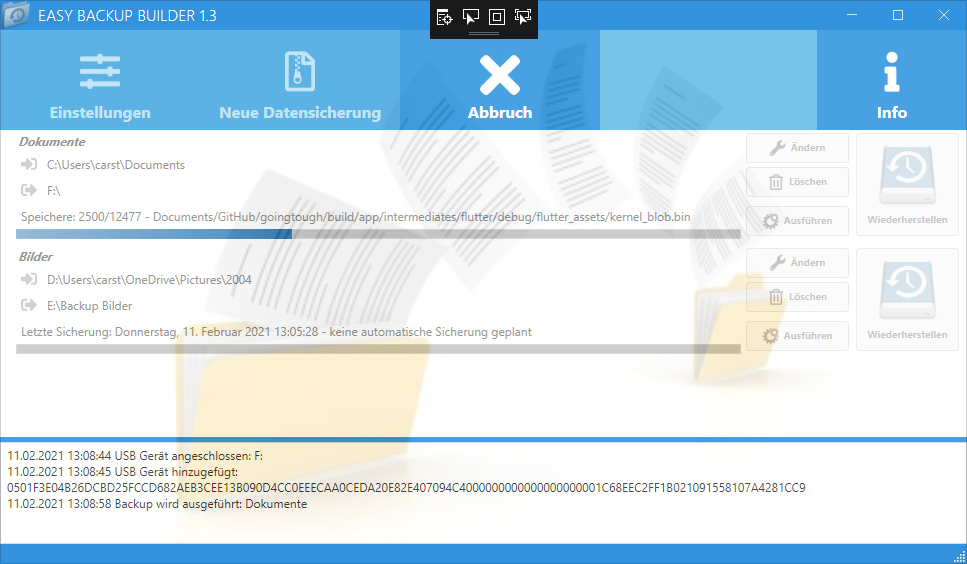 How can I protect my data from viruses, ransomware or technical problems?
Easy Backup Builder enables automatic backup of folders and files. The backups are stored in ZIP archives. This reduces the size of the backup and the backup files can be opened by many other programs.
If desired, certain files or file types can be excluded from the backup, or only certain files are backed up.
The created backup file can be protected with a password and highly secure AES 256 bit encryption.
The program is very easy to use. You can achieve the desired result in just a few simple steps.
File backup with Easy Backup Builder made easy. Data security with just a few clicks
Easy Backup Builder works independently in the background. After one-time setup, all file backups are executed almost unnoticed. If desired, the Windows backup program starts automatically with the PC and "hides" in the taskbar.
A backup can be bound to a specific USB device (USB stick, external hard drive, flash drive,..). You just connect the device and the backup starts automatically.
During development, special emphasis was placed on the ease of use of the software. The program works reliably with sophisticated technology even if your files are several gigabytes in size, or if a lot of files need to be processed.
Features and benefits of Easy Backup Builder
Backup of folders and files under Windows
scheduled, automatic backup
automatic backup when a specific USB device is connected
Backup to local hard drives, network drives or any external storage media such as USB sticks, flash memory or external hard drives
Highly secure encryption of the backup using the AES encryption standard at 256 bits
Compression of the backup by storing it in ZIP format
Restoration is also possible with other programs or directly with Windows Explorer due to the widely used ZIP format